Being there for our communities
Responding to crisis and community needs
When we see a need in our community, we step forward. We stay prepared to care for our community and colleagues, even during the most difficult times. Whether through partnerships with nonprofits, community leaders, government, local food banks or law enforcement, we invest in solutions to change our communities for the better. At HCA Healthcare, we are committed every day to creating healthier tomorrows.
Supporting the American Red Cross to provide critical resources in times of need
When disasters strike, HCA Healthcare works with the American Red Cross to respond by coordinating supplies and resources, supporting shelters and matching patients with community shelters when discharged. As a Disaster Responder Program partner, HCA Healthcare also supports funding for strong infrastructure, trained volunteers, innovative technology and critical resources necessary to respond to a crisis.
$250,000 donated in support of the American Red Cross' Disaster Responder Program in 2022
HCA Healthcare contributed over $350,000 through funding, colleague matching and in-kind donations to support organizations providing relief services to eastern Kentucky communities struck by historic flooding.
Stepping up to help combat human trafficking
HCA Healthcare's new Human Trafficking Awareness and Prevention Program is designed to help combat the silent epidemic of human trafficking. The program includes education, training and situational awareness for our clinicians and colleagues. We also teamed up with the U.S. Department of Health and Human Services' Office on Trafficking in Persons (OTIP) to provide online and in-person trainings to HCA Healthcare colleagues to inform and enhance the public health response to human trafficking. HCA Healthcare, the HCA Healthcare Foundation and our colleagues are proud to partner with law enforcement, government, healthcare, business and community organizations to address this epidemic.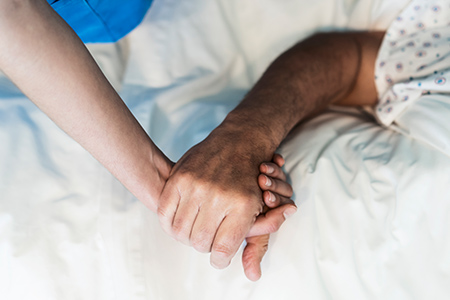 Emergency and disaster response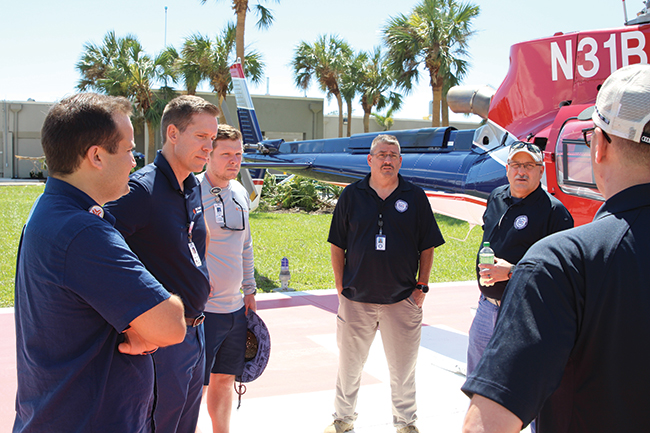 HCA Healthcare and our Enterprise Emergency Operations Center (EEOC) stand ready to respond to any crisis. The EEOC is a multi-disciplinary incident response team of risk management experts, emergency operations incident leaders, clinical leaders, facility management leaders, community liaisons and other leaders across the enterprise who provide resources and coordinate crisis response before, during and after various emergency situations. In 2022, the EEOC expanded its Emergency Operations Incident Support Team program. This team now includes approximately 70 professionals from across the enterprise, including facility CEOs, chief operating officers (COOs), emergency managers, security experts and other leaders, who are ready to deploy to impacted areas and support local teams with disaster response and specialized leadership experience.
The EEOC maintains partnerships with services such as StormGeo, a hurricane forecasting service, and Air Methods, a medical transport company, and uses equipment and technology to assess current and potential threats and distribute response plans. With sites of care in 20 states, we're able to redirect our supply chain to get lifesaving medical supplies, care teams and other resources where they're most needed.
Flooding in Kentucky
In July 2022, flooding in eastern Kentucky devastated communities in 13 counties. Two Galen College of Nursing campuses — Hazard and Pikeville — are located in the region, and many students, faculty and staff live in the area. In response, faculty and students from the Louisville campus, as well as some Hazard students, traveled to help at Pikeville, which was impacted the most. Galen faculty and approximately 40 nursing students also deployed to assist at Appalachian Regional Healthcare and other sites of care. Not only did students have an opportunity to support their communities, but they also gained valuable experience as they prepared for final exams.
While operations at our hospitals were not significantly impacted, the EEOC assisted the local Division Emergency Operations Center (DEOC) by connecting leaders with StormGeo, evaluating ongoing potential risk to our facilities and staff, and using the HCA Alert platform to ensure colleagues were safe.
In addition, HCA Healthcare contributed over $350,000 in funding, colleague matching and in-kind donations to support relief efforts:
$100,000 to the American Red Cross
$100,000 to the Team Eastern Kentucky Flood Relief Fund
Up to $50,000 in HCA Healthcare direct relief grants to Galen students with disaster needs
At least $100,000 through in-kind donations, such as diapers and formula, to meet critical community needs
Up to $50,000 in colleague matching gifts
Hurricane Ian
On Sept. 21, 2022, the EEOC received the first StormGeo alerts about a possible storm to impact somewhere along the Gulf of Mexico. By Sept. 24, our DEOC and EEOC were activated and incident support teams were deployed to support preparations and patient transfers ahead of what would become Hurricane Ian. More than 90 patients were transferred out of the expected impact zone. When the forecasted trajectory of the storm significantly changed hours before landfall, the EEOC adjusted quickly by transferring critical care patients out of the newly-projected impact zone, and ensuring our hospitals had medications, food, water, generator power and other resources necessary to continue caring for patients and colleagues. After Hurricane Ian made landfall as a powerful category 4 hurricane on Sept. 28, HCA Healthcare evacuated more than 185 additional patients within 16 hours, averaging one patient every five minutes, due to damage sustained at two facilities.
Our Human Resources Group (HRG) and Supply Chain teams assisted our facilities and colleagues by setting up on-site mini-marts with critical household goods, fuel stations, showers and laundry services. In the two weeks following landfall, more than 100 HR team members called over 8,000 of our Florida colleagues to confirm their safety and assess any needs.
The HCA Healthcare Hope Fund also received 776 applications from colleagues, and $1.2 million was distributed to support colleagues impacted by the hurricane.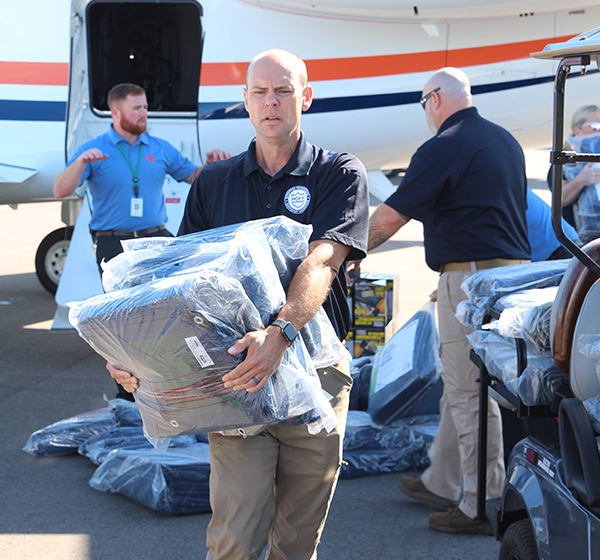 1,920
staff hours of deployed incident support teams
241
staff days of 24-hour continuous security coverage
To support relief efforts in Florida after Hurricane Ian, HCA Healthcare announced a contribution of up to $1.5 million to the following organizations:
$1 million to the Governor's Florida Disaster Fund
$250,000 to the American Red Cross
Up to $250,000 in colleague matching gifts to the American Red Cross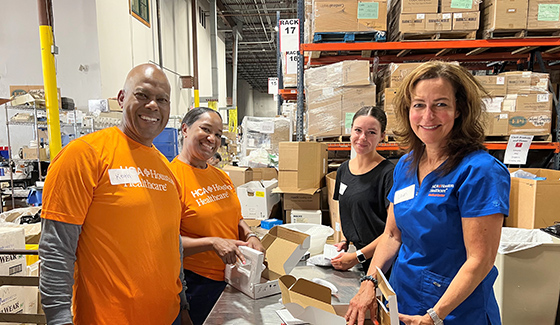 Ukraine support
In 2022, HCA Healthcare colleagues across our organization stepped in to support the relief efforts in Ukraine with Project C.U.R.E., a nonprofit that provides donated medical supplies, equipment and services to help deliver health and hope to people in need around the world. Colleagues helped pack medical supplies, prepare physician starter kits and first aid kits. We also sent vital equipment to the region, including a donated and refurbished ultrasound machine and emergency relief beds and mattresses.
More than $1 million committed in financial and in-kind donations to organizations working to provide relief in Ukraine
$100,000 donated to Project C.U.R.E. by HCA Healthcare