Advancing equity of care
We believe excellence in healthcare starts with a foundation of inclusion, compassion and respect for our patients and colleagues, and we are dedicated to ensuring equitable access to high-quality care. We do this by concentrating on key focus areas, including equity of care, access to services, web and digital accessibility, and pastoral and spiritual care.
Patient Advisory Group
In 2022, HCA Healthcare established a Patient Advisory Group (PAG), led by Senior Vice President and Chief Nurse Executive Sammie Mosier and Chief Diversity Officer Sherri Neal. The cross-functional PAG team meets regularly to identify patient needs and drive progress toward HCA Healthcare's patient care goals, which include:
Enhancing data collection and utilization
Strengthening culturally competent education for patients and clinicians
Improving access for targeted patient populations
Identifying and addressing opportunities to reduce health disparities and improve care
As part of our commitment to advancing health equity, we developed and deployed new trainings to support our facilities and hosted a forum to discuss the latest health equity trends, challenges and opportunities. Our Ensuring Access to Services educational resource, created to increase colleagues' cultural competence, is highly utilized with more than 125,000 downloads in 2022.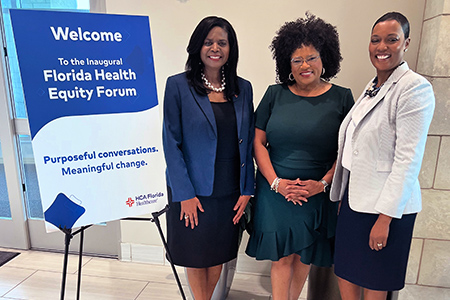 HCA Florida Healthcare hosted a forum with local business and community partners to discuss the latest health equity trends, challenges and opportunities to best serve the diverse communities of Florida.
Our strategic collaborations enable us to have a greater impact in addressing key healthcare issues, advancing health equity and improving access to care.
Improving lung health equity, accelerating cardiovascular clinical research and increasing nursing resources
In 2022, we announced a series of initiatives to address key healthcare issues, which you can read about in our press release: "HCA Healthcare Announces Collaboration with Johnson & Johnson to Address Key Healthcare Clinical and Industry Issues."
According to the American Cancer Society, lung cancer is the number one cause of cancer death in the Black community. In 2022, we announced a scalable pilot program to improve health outcomes in the Black community through early-stage lung cancer detection.
The Galen College of Nursing is developing a perioperative nursing curriculum integrating new nursing education resources to help meet the growing demand for perioperative nurses. Additionally, we are working to address health equity issues focused on educational programming, training and other programs that elevate and support nurses with a goal of enriching the nursing experience and skillsets and improving patient outcomes.
HCA Healthcare, through its HCA Healthcare Research Institute, will also work on cardiovascular health initiatives including a retrospective analysis of patients who suffer from heart arrhythmia, as well as research to understand the role digital health technology plays in impacting clinical outcomes for patients with Coronary Artery Disease (CAD) and Peripheral Artery Disease (PAD) diseases.
Supporting the American Heart Association on a new initiative to prevent, treat and beat stroke
We are proud to collaborate with the American Heart Association, in conjunction with the HCA Healthcare Foundation, to support a new initiative, Getting to the Heart of Stroke.
The nationwide initiative, launched in October 2022, focuses on preventing initial and recurrent strokes in patients and improving overall stroke care through education and deepening the collaboration between healthcare professionals, especially in neurology and cardiology; empowering consumers to know and better manage their stroke risk; and improving the overall health of communities by addressing disparities through local health impact work.
The initiative also focuses on education and care across medical disciplines and specialties and addresses risk factor management for patients diagnosed with atrial fibrillation (AFib).
The HCA Healthcare Foundation provides leadership, service and financial support to nonprofits in the communities HCA Healthcare serves. Since 1998, the HCA Healthcare Foundation has contributed over $242 million in grants and matching gifts to more than 500 agencies and organizations, focusing on those that promote health and well-being, education and quality of life.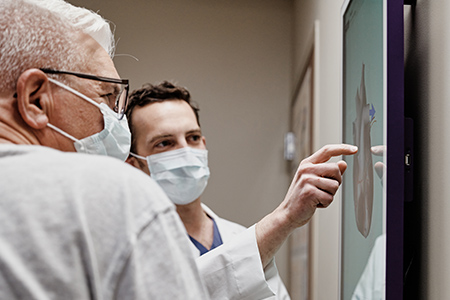 Strengthening partnership with March of Dimes to improve maternal health outcomes
Our partnership with March of Dimes focuses on improving maternal mortality and morbidity outcomes through postpartum discharge education and by lowering hospital cesarean rates among low-risk, first-time mothers, head first position or NTSV (Nulliparous, Term, Singleton Vertex) rates.
We use data from the more than 218,000 babies delivered annually at our network of hospitals to learn and implement new policies and practices that help improve prenatal, natal and postnatal care.
As part of our continued commitment to raising awareness and addressing the maternal and infant health crisis, we contributed $1.1 million to March of Dimes in 2022 through direct support, colleague fundraising and matching gifts.