Supporting our clinicians and each other
Supporting our clinicians and each other
With more than 93,000 nurses and 45,000 active and affiliated physicians delivering high-quality care to our patients, HCA Healthcare is committed to listening to our colleagues and providing the resources and support they need. We aim to support the physical, mental, professional and financial health of our approximately 294,000 colleagues, and we're proud to invest in a variety of benefits and resources to help improve their overall well-being.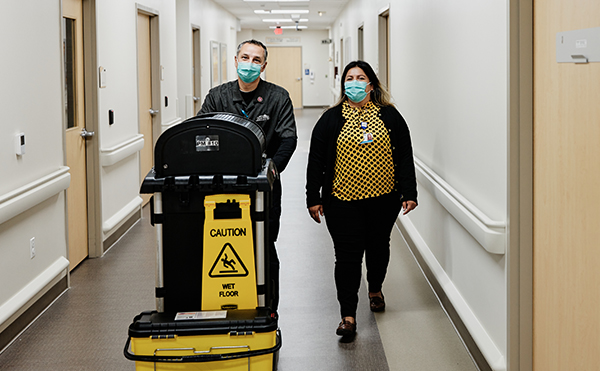 *Data represents U.S.-based colleagues as of Dec. 31, 2022.
Colleague engagement
Engagement remains a key focus for HCA Healthcare. Throughout 2022, our Human Resources Group (HRG) conducted targeted retention training workshops for more than 2,580 managers across the organization to showcase best practices and train leaders on the power of building meaningful connections with colleagues.
Eighty-six percent of facilities that participated in the training saw a reduction in full-time/part-time turnover and 96% saw a reduction in full-time/part-time registered nurse turnover. On average, those facilities that participated in the training achieved an 18.5% decrease in annualized nurse turnover compared to those facilities that did not participate.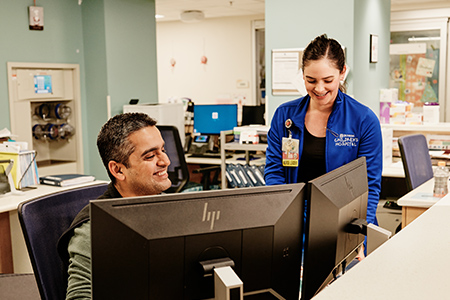 Vital Voices
Through Vital Voices, HRG conducts pulse surveys twice a year to gather feedback from colleagues about their experiences. At the end of 2022, our engagement index increased back to pre-pandemic levels. We saw improvements on nearly every question and no scores declined. The most notable gain was made in the recognition category, due in part to our Colleague Recognition Program.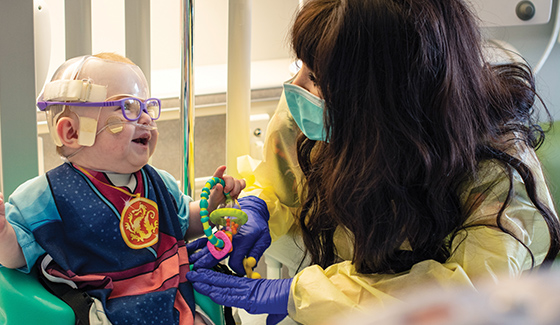 Awards of Distinction
HCA Healthcare's annual Awards of Distinction are the highest honors the organization presents to colleagues, physicians and volunteers. These awards recognize extraordinary individuals who exemplify our culture and values in three categories:
The Frist Humanitarian Award recognizes the highest achievements in serving others.
The Innovators Award recognizes creative new ideas for enhancing quality of care and efficiency.
The Excellence in Nursing Award recognizes the highest levels of performance in the field of nursing.
Learn more about this year's recipients in the HCA Healthcare Today blog.
Unit of Distinction
The HCA Healthcare Unit of Distinction program celebrates top-performing nursing units that are defining excellence through nursing-specific indicators and departmental performance. These teams and leaders are actively partnering and collaborating with patient care teams to problem solve and create best practices within their local organizations.
These annual awards go to the top five percent of all HCA Healthcare medical surgical, critical care, emergency services, surgical services, behavioral health, women's and children's nursing units, pediatrics/PICU and inpatient rehabilitation units. The top 6% to 10% of all HCA Healthcare units earn honorable mention designations. Units are recognized at an award ceremony in the spring.
Colleague Recognition Program
HCA Healthcare's Colleague Recognition Program allows colleagues to give and receive recognition while earning points that can be redeemed for rewards. In 2022, 2.63 million recognitions were shared on the platform.
In 2022, 2.63M recognitions were shared on HCA Healthcare's colleague recognition platform.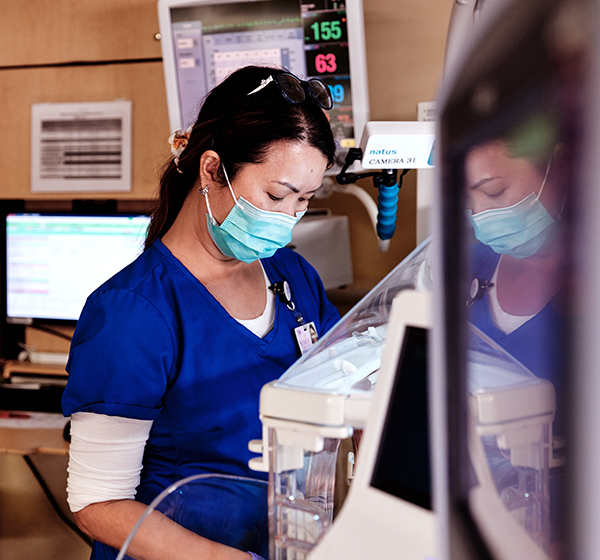 Financial planning resources for colleagues
Through our partnership with Optum Wellbeing, colleagues can speak with a financial professional about budgeting, debt reduction, retirement, estate planning, taxes and more. In addition, colleagues can take advantage of waived fees, consumer loans, mortgage discounts, access to financial well-being and wealth management counselors, and more perks through our preferred banking partners.
HCA Healthcare also partners with Remotiv to show eligible 401(k) plan participants their Retirement Readiness score. In addition, Remotiv provides access to a savings coach to help increase savings and design a personalized investment strategy.
Awards and recognition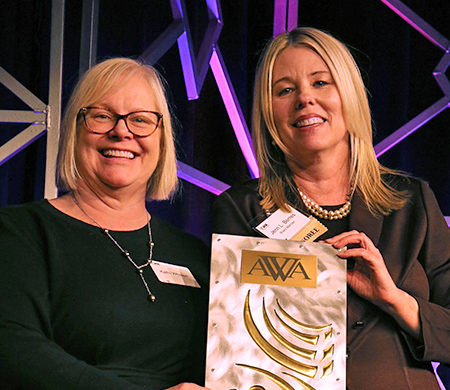 World's Most Admired Companies
HCA Healthcare was ranked No. 1 in our industry by Fortune on their 2022 list of World's Most Admired Companies. The annual global survey identifies organizations that excel in a variety of corporate reputation measures including innovation, ability to attract and retain talent, quality of management and social responsibility to the community and the environment.
Military Friendly Employer
We have been recognized as a military-friendly and military-spouse-friendly employer for 12 consecutive years by VIQTORY and by Military Times' Best for Vets for the past three years.
In 2022, we received a Military Friendly Employer Bronze designation from VIQTORY. The Bronze distinction is awarded to an employer who scored within 30% of the 10th best employer in their category. These employers have exceptional military/veteran programs and this award showcases their dedication to the military community.
Corporate Equality Index
The Human Rights Campaign's (HRC) annual Corporate Equality Index (CEI) is a national benchmarking tool measuring policies, practices and benefits pertinent to lesbian, gay, bisexual, transgender and queer (LGBTQ+) employees. Since 2020, HCA Healthcare has increased our score by 20 points.
Best Places to Work for Disability Inclusion
HCA Healthcare was recognized as one of the Best Places to Work for Disability Inclusion, receiving a top score of 100 on the 2022 Disability Equality Index ® (DEI). The DEI was launched in 2015 by the American Association of People with Disabilities (AAPD) and Disability:IN to help companies take measurable, tangible actions to achieve disability inclusion and equality. The 2022 DEI scored organizations for their disability inclusion efforts in categories such as culture and leadership, enterprise-wide access, employment practices, community engagement and supplier diversity.
LinkedIn Top Companies
HCA Healthcare was recognized on the 2022 LinkedIn Top Companies ranking, an annual list that helps professionals identify the top workplaces to grow their careers. This was the second consecutive year our organization earned a place on this list of 50 top employers. Using LinkedIn data, companies are ranked based on seven pillars that have been shown to lead to career progression: ability to advance, skills growth, external opportunity, company stability, company affinity, gender diversity and educational background.
Top Workplaces 2022
Multiple HCA Healthcare facilities and affiliated lines of business received Top Workplaces Regional Awards through the Top Workplaces employer recognition program in 2022. This program determines honorees through employee feedback and recognized the following entities and facilities in 2022.
HCA Florida South Shore Hospital (recognized for the fourth consecutive year)
HCA Healthcare Continental Division/HealthONE
HealthTrust
Parallon – Tampa Shared Services (recognized for the 12th consecutive year)
Rose Medical Center (recognized for the eighth consecutive year)
YWCA AWA Academy for Women Achievement (Nashville) Corporate Honoree
Each year, YWCA AWA Academy for Women Achievement (Nashville) recognizes corporate honorees that are passionate about empowering women and making Nashville a more inclusive, informed, just, healthy and thriving place to live. HCA Healthcare was honored to receive this recognition at the January 2023 award ceremony. YWCA's independent judging committee, composed of community and business leaders, selects honorees from an exceptional list of nominees. HCA Healthcare was judged on several criteria including the number of women in leadership and/or management positions, our policies, and our creative and innovative strategies to foster a diverse and inclusive workplace for our colleagues.