Supporting our clinicians and each other
Wellness support
Nurse Care:
For our full-time and part-time hospital-based nurses, this 24/7 helpline provides free and confidential access to a wealth of resources. In 2022, this helpline supported 17,159 colleagues. Nurse Care is part of a broader support network that includes education, counseling, workshops, facility visits and in-person or virtual care provided by licensed psychologists, social workers, alcohol and drug counselors, and marriage and family therapists.
Optum Wellbeing:
Through this partnership, colleagues and members of their immediate household may receive up to eight free counseling sessions per topic, per year. Sessions are available in person or via phone or text. Optum also offers a free referral service to help colleagues find professional services like child, elder and pet care, home and auto maintenance, education support and legal resources.
Wellbeing Hub:
In addition to comprehensive medical plan coverage that helps support physical well-being, HCA Healthcare colleagues can access a variety of support tools and resources to improve emotional well-being, quit smoking, manage stress, get help supporting their child's education, find family support resources and more. The Wellbeing Hub, a one-stop website for all of these resources, had more than 40,000 visitors in 2022.
Progyny:
In 2022, HCA Healthcare formed a new partnership with Progyny, a leading fertility benefits solution, to provide eligible colleagues access to comprehensive treatment coverage, personalized guidance and access to premier specialists to support unique paths to parenthood.
Facility and therapy animals support both colleagues and patients
One of the most beloved colleagues at Rocky Mountain Hospital for Children (RMHC) in Denver, Colorado, is a four-year-old golden retriever/lab mix named Posey.
"I don't remember not having a Posey," said Stephanie Sullivan, assistant vice president of media relations for HCA Healthcare's Continental Division. "She just made a huge impact on the hospital in a short amount of time. It's hard for me to envision what it was like on campus before we had her."
Research has shown that animal therapy can offer therapeutic benefits such as helping to relieve stress, depression and anxiety. Kara Hellums, a child life specialist at RMHC, adds that dogs are naturally empathetic and provide support in a way humans can't. So, in 2019, Kara and her team started the process of finding a facility dog.
"We were working on our end getting all of those administrative and financial pieces in place and in the meantime had a fabulous patient named Kylie Schwartz," Kara said.
Kylie was diagnosed with rhabdomyosarcoma, a rare form of cancer, and underwent courses of chemotherapy and radiation. After achieving remission for a few months, Kylie's cancer returned. Determined to leave behind a legacy of gratitude and love, Kylie set her mind to fulfilling the dream of a facility dog program for the children at RMHC who would go through similar treatments as she did. In the last three months of her life, Kylie created a foundation and inspired others to help make her dream of bringing a facility dog to RMHC a reality. In 2021, Posey officially joined the RMHC team.
Every morning, Kara arrives with Posey to start rounds, gathering information and prioritizing which patients need to be visited. Kara explained that deciding who Posey visits each day is based upon each patient's needs.
"We coordinate with our physical therapists and occupational therapists to see what their schedule is, who needs to get up and walk, who needs to be sitting up at the bedside. So we coordinate the timing, and we start moving through the units."
Posey also helps Kara and her team maximize their efforts in caring for their patients.
"I've spent most of my career working really hard to enter a room and have kids not be afraid of me," said Kara. "To be willing to talk to me about what's going on, about how they're feeling, to walk them through what we're anticipating happening on that day. And that can take a significant amount of time, sometimes days, sometimes weeks or months. When I walk in with Posey, I instantly have rapport. They aren't afraid anymore."
In addition to her patient interactions, Posey has been utilized in educating patients on their upcoming procedures. Kara and her team created books where Posey is pictured receiving the same care as the patients she visits.
"We use it to walk through things with kids," said Kara. "This one is 'Posey Goes to Surgery.' I use it for my pre-ops every day. It enables me to show them what they're going to see … Posey getting all of the steps in an IV, Posey getting her vitals taken, Posey meeting different people in the hospital and what that means."
Throughout the day, Posey moves from patient to patient, but not without visiting her colleagues along the way.
"I've had a number of our nursing staff and colleagues in the hallway pull me aside and say, 'I know Posey is probably more for our patients but Posey brings me joy and comfort every day,'" said Stephanie.
Kara shared the powerful story of an interaction between Posey and a grieving pediatric intensive care unit (PICU) nurse following the loss of a patient.
"The next day we were in rounds and I noticed Posey wasn't at my side, which is very unusual," said Kara. "I looked over and she was laying across the lap of one of our PICU nurses who had been taking care of that patient through his whole ECMO run. She was just quietly crying, hugging and holding on to Posey. She was just sitting on her lap and giving her that kind of love and unconditional support that the staff needed following a really hard fight with a patient and family that we came to really know, love and care about. Our nurse needed that support and Posey knew it."
"When she walks in, they flock to her," said Kara. "They engage. Their spirits lift. People are all of a sudden more positive and happier instead of sitting in the heaviness of maybe what they or their patients are going through that day."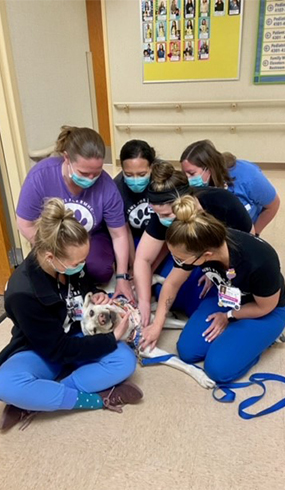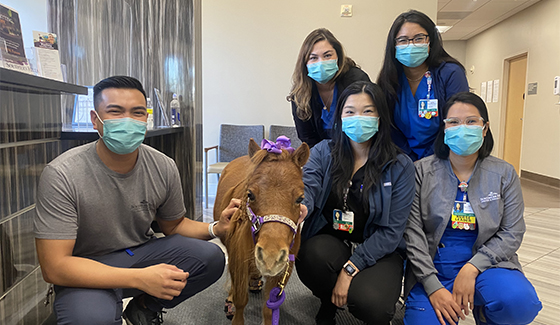 Caring for our caregivers
At Southern Hills Hospital and Medical Center in Las Vegas, Nevada, animals bring joy and support to not only patients, but their families as well. Erica Nansen, director of volunteer services at Southern Hills, has seen first-hand the benefit animals bring to the hospital.
"I actually got a note from a patient last week," said Erica. "She had met Barry, our 65-pound poodle, and wrote a letter to Barry and his handler, Phil. She wrote that one of the things that got her through the surgery is her visit with Barry right before surgery."
"I think that's important for us because that's the takeaway that I want them to have," added Erica. "I don't want them to remember the pain. I don't want them to remember the noise and being bothered and things like that. I want them to remember things like our pet therapy visits."
The COVID-19 pandemic has also seen an increased use for therapy animals within facilities, not only with patients but caregivers as well.
"The last couple of years, especially with COVID, we've recognized how truly important these visits are," said Erica. "A lot of times, we think that they're more for patients, but I have found that the staff actually appreciate them as much if not more than the patients. They're always asking me every day, 'Where's Barry? Where's Pax?'"
"As staff come in and staff leave, it's just a good way for them to start their day or to end their day," said Erica. "Immediately you can see the change in our staff when they're petting the animal or it just definitely makes their day. Makes it easier. Just kind of gives them the little lift that they need."
Providing comfort at and beyond the bedside
If you walk the halls of Methodist Children's Hospital (MCH) in San Antonio, Texas, there's a good chance you'll run into a dog, Jaime or Hazel, and maybe even a horse named Bambi. Since 2017, the facility animal program at MCH has been providing support and additional resources for patients and their families.
"Often our facility animals are able to encourage participation in care in a way that allows the patient to see the task as fun rather than something they need to do to get better," said Brielle Swedlin, child life manager at MCH. "This allows the patient, especially children, to engage in a way to support their growth and development as well as their healing process."
"By providing this resource in a thoughtful way we will continue to provide patients and their families with a multi-disciplinary approach to their healthcare," said Brielle. "Oftentimes, children have a hard time opening up about their feelings in the healthcare setting. Our furry friends provide them a space to feel comfortable which encourages them to share their feelings, allowing the staff to have a better understanding on how they are coping."
Of course, while Jaime, Hazel and Bambi work as integral members of MCH's multi-disciplinary healthcare team, they also bring joy and provide support to their colleagues.
"Some days it is as simple as rounding on the units and saying hello to everyone," Brielle said. "While our facility animals and pet therapy partners are well trained, they still have their own personalities and can be spunky and bring many laughs. Other days, they provide snuggles and support to a unit after they have had a rough patient experience or bereavement. Our facility animals provide so much love and support to our staff on a daily basis."