Delivering high-quality patient care
Our approach to delivering high-quality care is rooted in our belief of always doing what is right for our patients. From our more than 37 million annual patient encounters, we develop and share best practices across our enterprise that help continuously improve patient care, using evidence-based guidance, tools, measurement, advanced analytics and data science to support safe, effective, compassionate care. In 2022, we expanded programs and technologies to drive better outcomes for our patients.
Reducing opioid usage and improving surgical outcomes
HCA Healthcare's Enhanced Surgical Recovery (ESR) program is a patient-centered, research-based, multidisciplinary approach to surgical recovery that allows patients to play an active role in managing their own care and recovery plan. The program implements select interventions before, during and after surgeries to improve patient outcomes.
Our ESR program focuses on six tactics: goal-directed fluid therapy, patient education, multimodal pain management, permissive pre-op hydration/carb loading, DREAM (drink, eating and mobilization within 24 hours post-op) and multidisciplinary team members. Based on data collected from more than 140,000 joint replacement, gynecologic oncology, colorectal and bariatric surgeries in 2021, the ESR protocol has shown to be a proven roadmap to help improve surgical results, including:
44%
Up to 44% decrease in opioid usage for some surgeries
54%
A 54% decrease in 30-day readmissions for joint replacements
45%
A 45% decrease in 90-day readmissions for gynecological surgery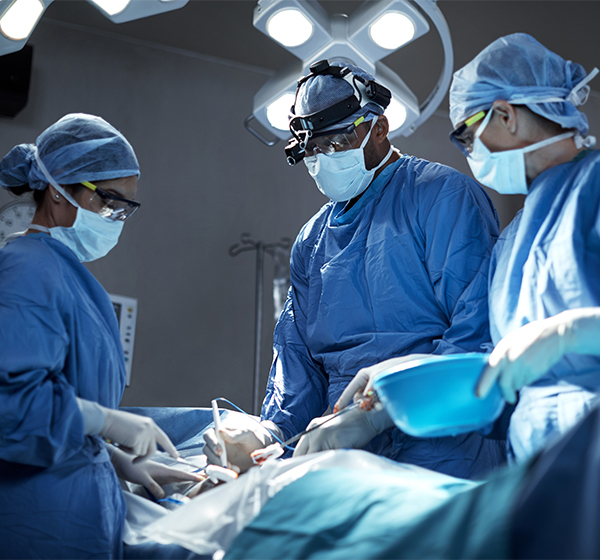 Next-gen Analytics for Treatment and Efficiency (NATE)
HCA Healthcare's Next-gen Analytics for Treatment and Efficiency (NATE) platform provides data and predictive analytics to help clinicians and operators have a clear understanding of what's happening with individual patients across their facility and, if needed, across the enterprise to inform decision-making and action plans. Developed by HCA Healthcare's Data Science team, NATE technology helps clinical leaders care for patients with critical conditions, and offers insight into improvement opportunities related to hospital operations. In 2022, we launched and updated several products on our NATE platform, including to assist with infection prevention, manage patient safety protocols and improve emergency room clinical quality through enhanced communication around admission and discharge processes.
Innovations for care and research
Clinical research and partnerships are fundamental to how we address our communities' most pressing healthcare needs. As a learning health system, we use our data from more than 37 million annual patient encounters to conduct research and create innovative tools that improve patient outcomes. Founded in 2009, the HCA Healthcare Research Institute (HRI) is the multispecialty clinical research arm of HCA Healthcare.
HRI is focused on unlocking insights into real-world data and conducting clinical studies that lead to breakthroughs in science, medicine and care for all people. The research institute does this by bringing together trusted pharmaceutical and biotechnology partners with community-based providers.
Healthcare Research Institute's impact in 2022
27 sites and growing in 12 divisions
250+ trials
Close to 6,000 visits per year
2,000+ annual patient accruals
Supports seven service lines
Historically, HRI has been closely connected to HCA Healthcare's oncology research organization, Sarah Cannon Research Institute (SCRI). In 2022, HCA Healthcare and McKesson Corporation formed a joint venture combining the resources and expertise of McKesson's US Oncology Research (USOR) and SCRI.
Together, USOR and SCRI are creating a fully integrated oncology research organization aimed at expanding clinical research, accelerating drug development and increasing availability and access to clinical trials for community oncology providers and patients, including those in underserved communities.
HRI will continue to support research needs for HCA Healthcare partners in our facilities, including participating in clinical trials and collaborating with industry partners to advance science.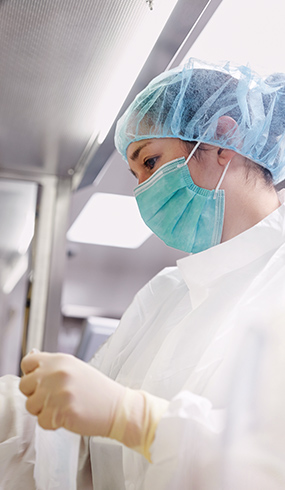 Care Transformation and Innovation
In 2021, HCA Healthcare formed a Care Transformation and Innovation (CT&I) department dedicated to creating the future of patient-centered care. CT&I helps identify and leverage new technology and process innovations to make transformative improvements in patient care and care team experiences. Working side by side with our frontline colleagues, CT&I researches opportunities to develop the hospital of the future through designing, building and testing innovative solutions.
CT&I has announced the selection of two Innovation Hubs where testing and production will take place: UCF Lake Nona Hospital in Florida and TriStar Hendersonville Medical Center in Tennessee. The work being done at these hubs is designed to enhance the patient experience, create more face time between providers and patients, and improve both quality and safety in the delivery of healthcare. One project being piloted is the use of technology-enhanced glasses intended to reduce clinical documentation time for physicians. Physicians can wear these glasses during an exam to capture their conversation with the patient. The information will then be automatically entered into the electronic health record for the physician's review.
CT&I also works alongside HCA Healthcare nurses to better understand current processes and help generate insights to inform future innovations. CT&I selected labor and delivery as its first innovative focus area, designating the labor and delivery units at Henrico Doctors' Hospital in Virginia and Medical City Dallas in Texas as Innovation Departments. These departments also serve as beta testing sites for products coming out of Innovation Hub locations.
Quality of care awards and recognition
Healthgrades' 2023 Specialty Excellence Award ™
Healthgrades recognized 23 HCA Healthcare hospitals as recipients of its Specialty Excellence Award™ for delivering superior patient outcomes. Out of the 50 hospitals recognized, 46% were HCA Healthcare hospitals.
*The methodology uses Medicare Provider Analysis and Review (MedPAR) data from 2019 to 2021, and analyzes risk-adjusted mortality and complications for 15 common in-hospital surgical procedures.
The Leapfrog Group's Hospital Safety Grade
In the fall of 2022, more than 80% of our hospitals rated by The Leapfrog Group received an "A" or "B" Leapfrog Safety Score. This is higher than the national average of 57%.
2022 Fortune/Merative 100 Top Hospitals
Twenty-four HCA Healthcare hospitals were recognized on this list of top performing U.S. hospitals from Fortune and Merative (formerly IBM Watson Health). This was an increase from the 16 HCA Healthcare hospitals recognized last year.
U.S. News & World Report's Best Regional Hospitals
U.S. News & World Report recognized 14 HCA Healthcare facilities in its Best Regional Hospitals ranking. Nine of those facilities were ranked in the top three for their metro area.
Best Hospitals for Maternity Care
Eleven HCA Healthcare hospitals are recognized on this list by Money and The Leapfrog Group.
2022 Press Ganey Human Experience Awards
Thirty-two HCA Healthcare facilities were named 2022 Human Experience Award winners by Press Ganey. Of those, 27 HCA Healthcare facilities received the Guardian of Excellence Award®, which honors organizations that perform in the top 5% of healthcare organizations for patient experience, employee engagement, physician engagement or clinical quality performance in one year. Five HCA Healthcare facilities received the Pinnacle of Excellence Award®, which recognizes healthcare organizations for demonstrating excellence for a minimum of three consecutive years in patient experience, employee engagement or physician engagement, or two years in clinical quality performance.
Magnet and Pathway Designation
Twelve HCA Healthcare hospitals are Magnet Designation recognized, and 20 are Pathway Designation recognized. Magnet and Pathway to Excellence Program designations are awarded through the American Nurses Credentialing Center (ANCC). Magnet Recognition designates organizations where nurse leaders successfully align their nursing strategic goals to improve the organization's patient outcomes. The ANCC Pathway to Excellence Program recognizes a healthcare organization's commitment to creating a positive practice environment that empowers and engages staff.