Protecting our patients
We remain focused on the safety of our patients throughout their care journey and on working to optimize our processes to improve healthcare everywhere.
Patient safety
At HCA Healthcare, patient safety is at the heart of our commitment to providing high quality care for our patients. We foster a culture of safety by involving every member of our care teams and leveraging technology to help us provide a secure environment for our patients and colleagues.
HCA Healthcare's Patient Safety Organization (PSO) collaborates with nurses and leaders from our patient safety, quality and service line teams to establish and implement systems and processes that support safe, compassionate care. Through HCA Healthcare's Safe Table discussions, nurses, colleagues and caregivers can openly discuss concerns related to patient safety in a confidential and legally protected environment. The PSO analyzes feedback from Safe Table discussions to help identify and act on opportunities to improve patient safety and the quality of healthcare delivery. From the analyses, HCA Healthcare shares our learnings and best practices to make improvements across our facilities.
As a result of the overwhelmingly positive response to the Safe Table discussions, in May 2022, we revised the process to allow more PSO members and facilities to conduct Safe Table discussions according to their own needs and timeframes. We are also investing in a new safety surveillance reporting system for colleagues to report potential errors or events regarding patient safety. In 2022, more than 200 Safe Table discussions were held by HCA Healthcare hospitals, divisions and service lines.
HCA Healthcare is recognized nationally by leading benchmarking institutions, including The Leapfrog Group, for our dedication to patient safety and quality. In the fall of 2022, more than 80% of our hospitals rated by The Leapfrog Group received an "A" or "B" Leapfrog Safety Score. This is higher than the national average of 57%.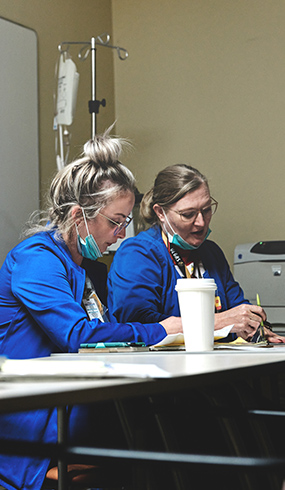 Ethical business practices
HCA Healthcare's ethics and compliance standards reflect our commitment to doing what is right for our patients, colleagues and communities. Our Ethics and Compliance program has two vital components: 1) our commitment to ethical conduct and 2) compliance with laws and regulations that apply to the work we do. Along with the tenets of our Ethics and Compliance program, HCA Healthcare's mission and values are incorporated into our daily activities in both how we care for our patients and how we treat each other.
We have more than 200 ethics and compliance-related policies covering a wide array of compliance topics. Each year, our colleagues complete a code of conduct training and receive education on compliance topics such as our shared values, respect and inclusion, customer service and privacy. Our Ethics and Compliance program also promotes reporting ethics or compliance concerns through several mechanisms including our Ethics Line, which is available 24/7 for colleagues to ask questions and report concerns without fear of retaliation. In early 2023, HCA Healthcare was recognized for the 13th time by Ethisphere, a global leader in defining and advancing the standards of ethical business practices, as one of the World's Most Ethical Companies.
Data protection
The safety of our patients also includes protecting their personal information. Every HCA Healthcare colleague plays a role in protecting each patient's privacy rights and the sensitivity of their data. All colleagues receive annual training on how to handle and protect patient data, privacy, information security, physical security and more. To guard against email phishing, one of the most popular criminal scams, we send regular phishing tests to all colleagues. We also do regular tabletop exercises and drills at the facility, division and enterprise level.
As we partner with other organizations, privacy and security are guiding principles. Our multi-year partnership with Google Cloud will help create a secure and dynamic data analytics platform for HCA Healthcare and enable the development of next-generation operational models focused on actionable insights and improved workflows.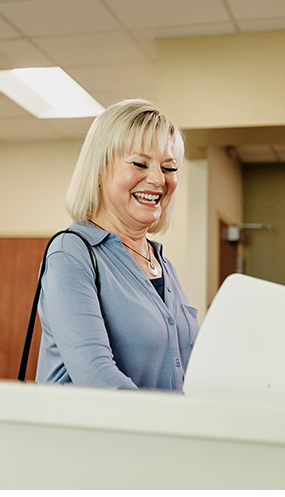 Emergency operations
In the event of a crisis, HCA Healthcare's Enterprise Emergency Operations Center (EEOC) is available 24/7 to support our facilities and help ensure patient and colleague safety. When a major incident occurs, nearly 200 leaders throughout the organization continuously monitor potential risks and create response plans, redirecting our supply chain or transferring patients as needed.
Patient and colleague safety is always a top priority, but is especially critical in times of emergency. During the 2022 hurricane season, the EEOC used triage data available through our evacuNATE algorithm to improve transfer center protocols and help reduce hospital evacuation time. EvacuNATE keeps track of where patients currently are, their care needs and where alternative care is available, which helps simplify the transfer process and streamline communication between care teams. In addition, the EEOC collaborated with Air Methods, our air transport partner, to establish a first-of-its-kind Neonatal Intensive Care Unit Incident Support Team (NICU IST). If a NICU evacuation is required, this team of highly specialized HCA Healthcare nurses and respiratory therapists from across the country will deploy to help transfer NICU patients.
HCA Healthcare operates seven transfer centers that serve more than 650,000 patients each year.